5SK created fantastic tightening tension paragraphs today using Seven Steps to Writing Success by Jen McVeity.
Scenario: You are in a sinking boat out at the reef with deadly sharks circling.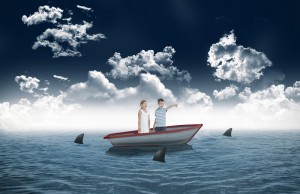 Step 1: Brainstorm words and phrases for (1 minute per sense):
See –
Hear –
Touch –
Taste –
Smell –
Feel  –
Step 2: Write paragraph starting at a point of action (5 minutes)
Here are some of the wonderful examples produced by 5SK.
My feet are cold and drenched. I'm sweating like anything. Unfortunately sinking is the least of my problems as big figures are circling around me with jaws big enough to eat me whole. I'm desperately trying to start the motor with a terrified look on my face. I keep trying but it doesn't start. Is this it?
Jemma
'There is a hole in the boat', I shout as sharks start circling. I madly shovel the water out, it's not working. The sharks' jaws start clamping down. I can feel my lunch coming up. The sweat starts to pour from my head and into my mouth. I am so terrified I scream. I can hear the rushing water coming into the boat. 'Help', I shout but no one answers my call.
Rhiannon